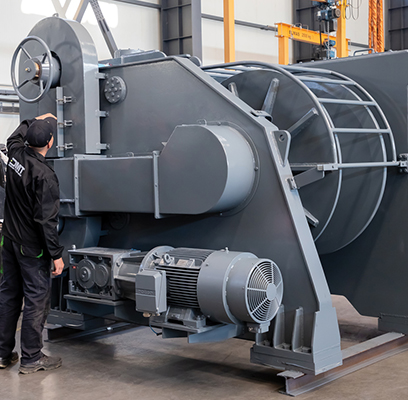 Posted on
January 20, 2023
Maintaining strong links: DMT landed one of the biggest contracts in its history
DMT Marine Equipment has overcome a testing pandemic and landed one of the biggest contracts in its history. With innovation at its core, the company is relentlessly looking to reshape its industry with good design and quality principles. CEO and Company Founder Piet ter Schure discussed the company in conversation with Andy Probert.
Piet ter Schure is immensely proud his company's products do not simply come as standard. That defines DMT Marine Equipment's approach to business.
Its focus on innovation and continuous product development is intentional, said the CEO and Company Founder, because of where it positions DMT in the market: "We listen to our customers' needs and design their required solutions. Where our quality comes as standard, innovation never has, it's exceptional! That's why we keep pushing the boundaries."
This drive has secured industry recognition, with DMT taking the Best Deck Winch Supplier 2021 award for a second year. On the commercial front, it has won a significant contract to support the construction of one of Europe's most ambitious infrastructure projects, the Fehmarnbelt tunnel.
Brighter days ahead
As much as Mr ter Schure is happy to acknowledge the positive, he is also reflective of a painful period the company endured during the pandemic: "2021 was challenging as we encountered supply chain problems with the delivery of electronics and overseas transport issues.
"We were super-positive for 2022. Everything looked good. Then, the Russian-Ukraine conflict erupted. For the past 18 years, we have had business entities in both countries."
"Purchase orders were 60%-70% higher, but then we had a 90% increase in steel prices. It was a new challenge. But we survived with good teamwork, believing in what we could do in-house and working with good partners. That was our focus: survival in highly unpredictable times."
However, DMT has seen new market developments, such as in the liquid gas sector. "Liquid gas means tanker transport in Europe," Mr ter Schure said. "That means demand for specialised equipment that we can make. It is working well for us."
Such confidence is born out of DMT winning a contract to supply 64 winches for the construction of the longest immersed tunnel in the world. The Fehmarnbelt tunnel will connect the Danish and German coasts through a 40m deep underwater road and rail link.
DMT will supply all winches for the subsea positioning of 89 prefabricated tunnel elements, weighing between 21,000 and 75,000 metric tonnes each. The winches will be placed on four immersion pontoons to work together. Mr ter Schure said: "It is a great honour and a major responsibility. to bring our passion and know-how to the success of this project."
The contract represents the peak of DMT's powers in a highly competitive marketplace and vindication for Mr ter Schure. He launched DMT in Romania in 2001, with three colleagues from an office, in a small apartment and ploughed his last personal savings into four computers and two printers.
While headquartered in Romania, DMT now has offices in China, Holland, Russia, Turkey, the US and Ukraine, with a 300strong workforce. It operates three workshops across 5,400 sqm of workspace and plans to invest in a fourth.
Post-pandemic, DMT is fielding new orders and enquiries from designers, builders and owners from the global marine, civil and mining sectors as the market is reinvigorated. The high demands of towing winches led to a significantly increased worldwide presence of DMT equipment in this market. For these remarkable results, the company's loyal customers in Turkey played a key role.
DMT remained profitable despite 2021's difficulties and is looking at 2023 with growth potential of up to 60%, according to Mr ter Schure: "We need suppliers to help us manage this increase, and we have selected good partners. We have signed contracts for next year and are working on 2024. Substantial orders are from Europe, but we are looking to new markets and clients.
"We are highly respected for our specialist winch products. It has taken a long time to get this belief from customers, but it has paid off. DMT never intends to stand still, and by having these projects, we can invest in combined technologies which can be utilised in the future."
Facing challenges
He zeroed in on obstacles, including spiralling inflation and ensuring the flow of payments from clients. "The biggest challenge is to make the correct calculation for the client and us," Mr ter Schure explained. "For example, we thought the price of overseas transport was lowering, and we considered that problem solved, but then the price changed, it impacted many things. Change appears to be the only constant."
Supply chain and lead times have also proved challenging, he added. "As winch builders, we want to focus on innovating and developing new products. We always want to evolve our portfolio and take it to the next level."
According to Mr ter Schure, a major concern was taking care of DMT's team: "It's the biggest asset to us. At DMT, keeping the team happy, particularly in difficult times of high inflation and energy costs, is key. We have to do things more efficiently, smarter and use different calculation methods, such as optimal cutting times."
Over the last 18 months, the company has focused efforts on reducing the environmental impact of its equipment and production processes. It intends to invest in alternative energy sources, such as solar power, to become self-sustainable.
"We intend to be as green as possible," said Mr ter Schure. "Reinvestment in people, facilities and innovation will help keep the business moving."
As demand for greener products continues, DMT is focused on R&D. "We are looking at a particular area of winch products that traditionally consume a lot of energy," he continued. "We want to achieve the same performance with less gasoline usage. We are close and will look to introduce and test this product next year.
"But we will not make any concessions on quality as our products stand by their reputation for durability, reliability and longevity. Clients know they can perform in harsh environments and DMT will remain loyal to those principles."
Mr ter Schure outlined how DMT's after-sales support and commitment to a price-quality balance on products remain differentiators: "I try to be loyal and honest and everyone who knows me can confirm that. Clients and suppliers know we stand for transparency and that helps strengthen partnerships in the long run."
Reinvestment in people, facilities and innovation will help keep the business moving.