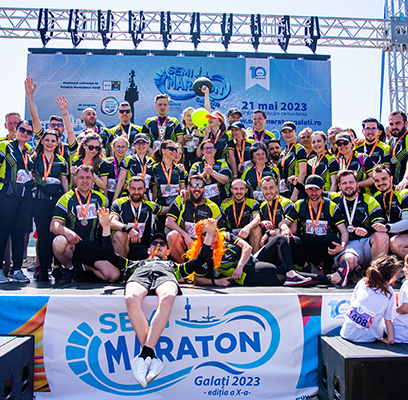 Galati Semimarathon – DMT's TeamRun Unveiled Secret of Success
Our reputation as a cool team at DMT Marine Equipment has spread far and wide, and it's no longer a secret kept within our circle. The recent Galati Semimarathon was a testament to our companionship and collective spirit. It was an event where our team glowed brightly, and everyone witnessed the joy and enthusiasm we brought to the race.
This challenge renewed in us a sense of energy and positivity. The experience of the semi-marathon has injected us with a dose of inspiration and motivation that we're eager to carry forward. We believe that this vibrant energy is contagious and we wish to share it with all of you.
This competition was about embracing challenges, finding opportunities, and approaching everything with a can-do attitude. We encourage all of you to tap into your inner well of positive energy. A positive mindset not only affects our performance but also enhances the collective dynamics of our team. Together, we can achieve remarkable things!
Let's approach this year and the next to come as a united front. Together, let's reflect on our past achievements, celebrating the milestones we have reached and the lessons we have learned along the way. Our team has cultivated strong bonds, forged through shared experiences and unwavering support. It is these bonds that have propelled us forward, enabling us to conquer obstacles and achieve remarkable success. With this foundation, let us continue to push the boundaries of what we can accomplish, fostering innovation, collaboration, and a collective spirit that knows no limits. As we embark on this journey together, the future holds endless possibilities.
We, at DMT Marine Equipment, extend our heartfelt wishes for each one of you to experience the same level of excitement, joy, and positive energy that we felt during the Galati Semimarathon.