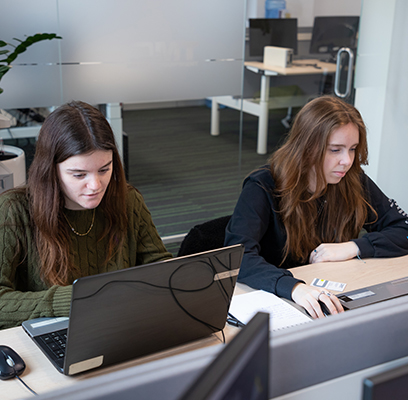 Remarkable Internships at DMT Marine Equipment: Meet our fabulous interns!
Internships are incredible opportunities for aspiring professionals to gain valuable experience and lay the foundation for a successful career. At DMT Marine Equipment, we've had the privilege of hosting two outstanding interns, Pleuni and Guusje, who have made a remarkable impact during their time with us. We're thrilled to share their firsthand insights, achievements, and the incredible journey they embarked on with us.
Pleuni's ability to think outside the box has impressed us all, and her enthusiasm has been contagious. She has not only honed her skills but has also made a lasting impression on everyone she has worked with.
Guusje has an eye for detail and a strong sense of aesthetics. Her dedication to perfection and willingness to go the extra mile have been truly commendable.
We couldn't be prouder to have had Pleuni and Guusje as part of our team. Their hard work, passion, and drive have been truly inspiring. As they move forward in their careers, we have no doubt that they will continue to achieve remarkable things and make a positive difference in their respective fields.
Internships are not just about the organizations that provide the opportunity; they are also about the interns themselves and the valuable contributions they bring. We extend our heartfelt congratulations to them on their accomplishments and wish them every success in their future endeavours.
As we bid farewell to Pleuni and Guusje, we eagerly anticipate the arrival of new interns, eager to embark on their own remarkable journeys with us. The future looks bright, and we can't wait to witness the amazing things these talented individuals will achieve.
Happy to have had you here, Pleuni and Guusje!